Whole Spices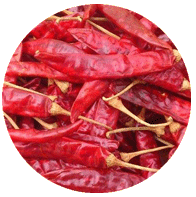 Whole spices are spices in natural form. Some of the major spices which are in good demand in whole form are Turmreric, Chilly, and Coriander etc. The whole spices which we supply are cleaned and graded manually. They are further packed in clean and strong export worthy bags. Our range encompasses Chilly Whole, Turmeric Finger/Turmeric Whole, Coriander Seeds, Cumin Seeds, Fennel Seeds, Fenugreek Seeds .Black Pepper Whole ,Dried Ginger etc.
Chilly Whole
Indian Chilies are the most famous in the world and have huge demand in the overseas market. India continues to be the main producer and exporter of most varieties of Chilly.
Some of the major chilly producing centers in India are Rajasthan, Maharashtra Andhra Pradesh, Tamil Nadu, Karnataka, & Assam.
Standard Packing :- 25 Kgs / 15 Kgs /10 Kgs Nett In New Singe Jute Bags..
Quantity Stuffed :- 20 FCL-6.50 M.Tons, 40 FCL-13.00 M.Tons